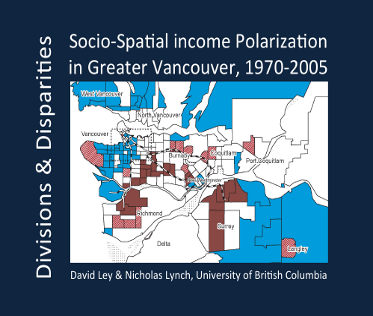 Divisions and Disparities in Lotus-Land: Socio-Spatial Income Polarization in Greater Vancouver, 1970-2005
by David Ley & Nicholas Lynch, Research Paper 223, Neighbourhood Change Research Partnership, University of Toronto, August 2012
Ley & Lynch 2012 Vancouver Income Polarization – RP223
Vancouver CMA 7-maps Avg Individual Income 1970-2010
This paper examines growing inequality (the gap between rich and poor) and growing polarization (the numbers of rich and poor) in the Vancouver metropolitan area, and shows how these differences play out spatially through the region's different municipalities and neighbourhoods.
A study of Toronto, known as the "Three Cities" report, shows that since 1970, the city has become increasingly polarized between affluent neighbourhoods toward the centre (City #1) and larger numbers of disadvantaged neighbourhoods on the edges characterized by social exclusion in terms of employment opportunities, public services, and urban transit (City #3). Sandwiched between these extremes is a large group of more or less stable middle-income neighbourhoods (City #2). Are similar trends apparent in Vancouver?
We studied the City of Vancouver's 23 neighbourhoods and 15 principal suburban municipalities, and found considerable transformations in both demographic and economic characteristics in the past few decades. We have identified ample evidence of a new geography of rising income inequality and polarization in metropolitan Vancouver from 1971 to the last complete census in 2006.
David Ley is the Canada Research Chair of Geography at the University of British Columbia. His research interests include the older neighbourhoods of large cities and the social groups that experience them and attempt to shape them. He has also done considerable research on immigration and the city, as part of the Vancouver Centre of the Canadian Metropolis Project on immigration and urbanization.
Nicholas Lynch is pursuing a Ph.D. in urban social geography at the University of British Columbia. His research focuses on urban residential development in Toronto and Vancouver.